Welcome to my website
Thanks for visiting my website. Here you can find out about a range of services that I offer to music services, ensembles, individuals and music industry professionals.
If you have any queries please use the contact page to get in touch. I'd be delighted to hear from you. Happy music making…. Paul
---
My five main passions are, music directing, composing, performing, mentoring and teaching. 35 years of working for a leading UK music service has given me many opportunities to hone these skills. In particular I really enjoy seeing improvements happen both at an individual and collective (ensemble) level. De-mystifying the creative process, giving musicians a set of acquirable skills to improve their performance is a major part of my approach. I am a keen advocate for the theory and application of 'Simultaneous Learning' and believe that all musicians should strive to become independent 'life long' learners. My experiences to date have given me empathy for musicians, both students and professionals of all ages. I have a wide and eclectic taste in music and enjoy working with people. I am a reflective practitioner.
If you're a music service, ensemble manager or community ensemble looking for a music director please click here
If you're interested in woodwind tuition please click here
If you're a recording artist, song writer or ensemble wanting production please click here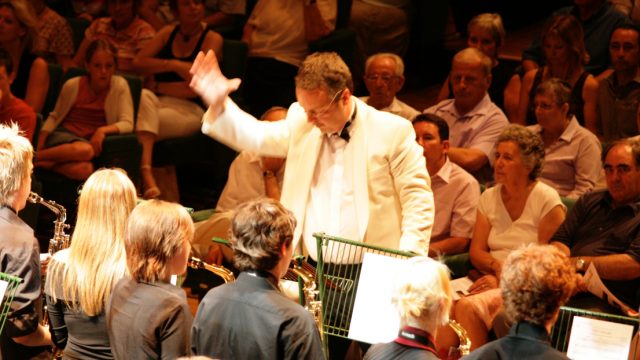 Music Directing
I have a real passion for music directing. If you're a music service, adult ensemble or community music group I can design a package/course or series of workshops that can deliver a quality experience for your musicians. If sectional tutors are required I can supply highly qualified, experienced instrumental tutors for sectional rehearsals. All of these tutors have enhanced CRB certificates. I am of course more than happy to work with your own staff. Additionally I am happy to take responsibility for programming and repertoire as well as organising a rota (where applicable) for full and sectional rehearsals. Whether your group is a Symphonic Ensemble, Jazz Orchestra or chamber group I will deliver clear, concise music directing. My goal is to get the very best musical outcome for your ensemble.
Orchestra, Chamber Orchestra, Symphonic and Chamber Winds, Jazz Orchestra, Big Band, Theatre/Pit Orchestra and Contemporary Ensemble directing.
---
Education/Consultancy

Standards of teaching and learning
Raising standards
Team building
Music Production

Pre and Post Production
Artist development
Mentoring and Adjudication

Teacher development
Coaching
Adjudication
52
Intensive 4 day music courses delivered involving more than 2000 musicians
1600
Regular 2.5 hour weekly rehearsals delivered
50000
plus, Student musical experiences
48
National Awards for excellence (NFMY and NCBF/BASWBE)